Backpack Round Up 2011!
It's that time again and how quickly it rolls around!  If your child is looking for a backpack that 's a bit more unique, take a look at these selections!  And don't miss our Lunchbox Roundup!
For the Three to Seven Set
Zoo Packs by Skip Hop
This line of backpacks is really cute!  Sit down with your little one and have them choose their favorite animal from dozens of possibilities!  There are the expected dogs and frogs, as well as the more unexpected fox, penguin and bee! (Skip Hop,  Zoo Packs, $20)
Kiddie Play Packs by Ore Originals
Perfectly sized for the younger set, these simply designed backpacks are available in a wide variety of fabulous patterns, including a few with vintage appeal.  Coordinating lunch boxes are also sold at this site. (O.R.E.,  Kiddie Play Packs, $20)
Back Pack Buddies
Handcrafted from locally sourced, reclaimed wool, each one of these backpacks is one of a kind!  Choose from a dog or walrus design! (Uncommon Goods*, Backpack Buddies
, $48)
For the Grade School Set
Backpacks and Messenger Bags from Four Peas – This website will be a great place to start your backpack search.  Kids can choose between a backpack or messenger bag style and then from a wide variety of patterns and designs:
(Four Peas, Save the Blue School Backpack, $35)
(Four Peas, Spunky Stripe Messenger Bag, $35)
Personalized Backpacks from Swoozies
Here's your resource for the preppy, personalized backpacks!  There are bright backpacks for girls in hot pink, navy or lime green and chocolate brown or camo for boys.  (Swoozies, Personalized Tuff Stuff Camo Backpack, $19.95)
For the High School Set
Backpacks that Accommodate a Laptop – so many high school students are now carrying laptops along with their books that it makes sense to have one bag to accommodate both.  Here are some excellent options:
Laptop Backpacks For Girls  –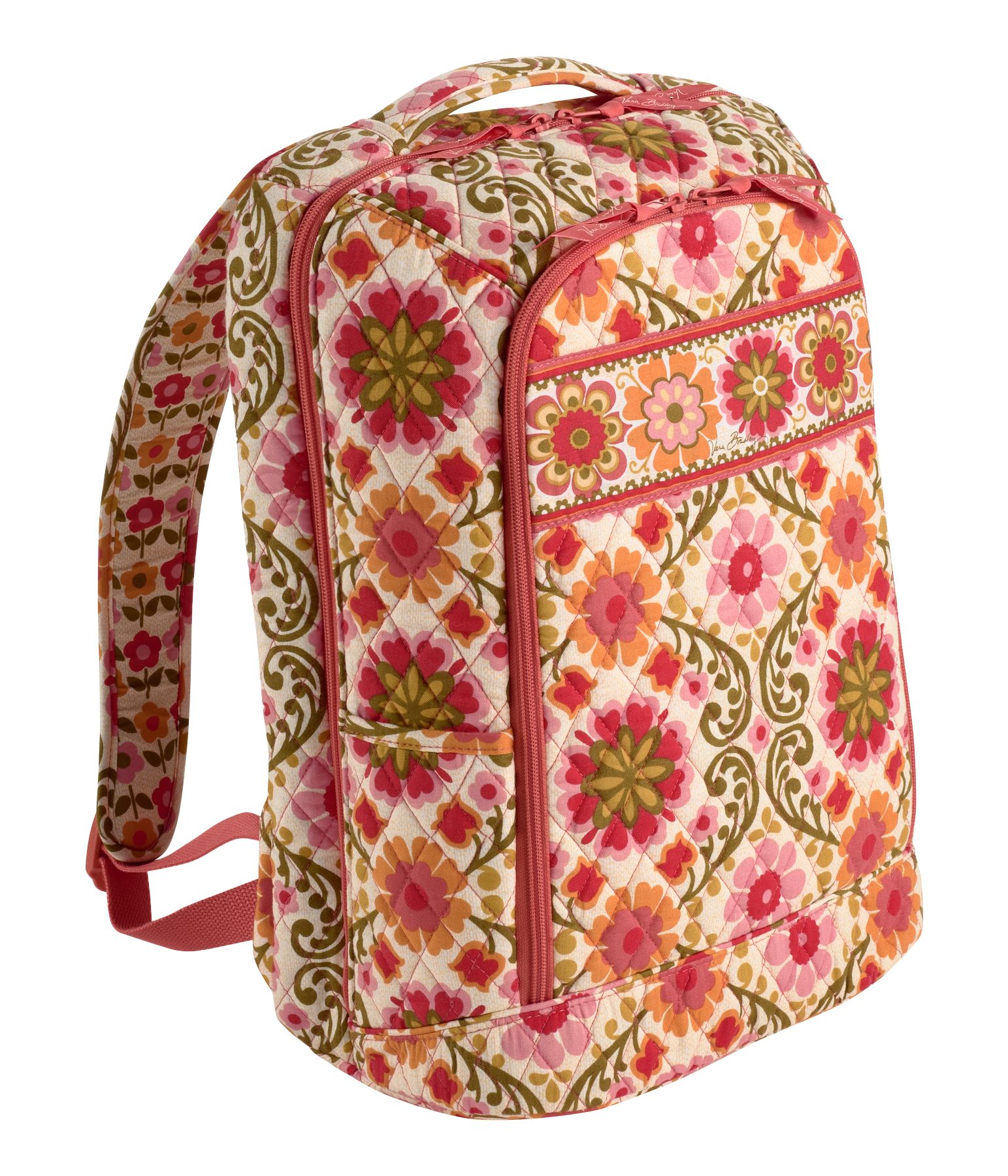 From preppy to indie, several fabulous patterns are offered from Vera Bradley. (Vera Bradley*, Laptop Backpack, $98)
Another terrific option for high school girls carrying a laptop along with their books is the Dakine Prom, offered in several patterns at Zappos.  (Zappos, Dakine Prom, $50, free shipping)
Laptop Backpacks For Guys –
Boys is high school will like The Dakine Mission Backpack's quality, comfort and laptop sleeve.  Offered in a variety of patterns at Zappos.  (Zappos, Dakine Mission Backpack, $65)
This roomy and high quality backpack from Merrel has lots of zippered compartments and will accommodate a laptop. (Zappos, Merrel Avionic Commuter Laptop Backpack, $99)
Some Additional Fun Suggestions for Teen Girls:  my apologies to the guys, but there are just more options for the girls!
For the teen girl who's looking for something a bit different, this St. Tropez Fushia French Market Basket will do the trick! (French Basketeer,  St. Tropez Fushia French Market Basket, $48)
Another out of the ordinary alternative is this monogrammed Navy and White Striped Canvas Tote from The Palm Gifts.  With easy to carry handles and reinforced seams, it makes a nice alternative backpack for teen girls. The tote comes in a variety of thread colors and may be personalized for free. (The Palm Gifts, Navy and White Striped Canvas Tote, $32)
A teen girl can't go wrong with a classic LL Bean Tote Bag.  (LL Bean Boat and Tote Bag, size medium for $24.95)
Best of luck with important search for the perfect backpack for school!  Which one will you choose?!
* Busy Bee Lifestyle is an affiliate of Uncommon Goods and Vera Bradlely.
You may also enjoy:


Share This Article